Nomeansno
The band was formed many years ago in 1979 when Rob Wright (born 1954 born in Halifax)- came back home to Victoria, BC from working in Calgary.
Rob, aged like 25, became interested in the new punk rock scene and wanted to play some punk rock. When he first listend to the Ramones he was into fusion jazz, blues rock, prog rock, pop or The Beatles. But the attitude of the punk movement, which was an aggressive "fuckn you" attitude inspired him.
When he came to Victoria, he brought a TEAC Portastudio four-track tape recorder with him, one of the first ever made. Rob Wright started to make music with his younger brother John Wright in their parent's basement.
John (born 1962) who was at the age of 16 and going to high school, had a formal training as a drummer in school bands with jazz technique. One can see the way he holds his drum sticks.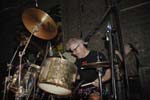 Before he and Rob started to play in NMN they were also in a bar band called "Castle". They were the rhythm section and both would sing a song each during gigs. Rob "Sultans Of Swing" and John " Honky Tonk Woman". But when John went to see D.O.A. at university of Victoria in 1979, he was "like holy shit", bought the D.O.A.single "Thirteen/The Prisoner". This pointed him in the directions that he has gone with NMN.
John also knew how to write songs for their two piece, with Rob playing the bass and singing. They didn't really know any guitar players and they were heavily into PiL and that heavy bass thing. So basically the brothers started as a rhythm section with a large emphasis on the bass. When Rob peeped the anti-rape slogan "No Means No" scrawled on a garage door, he thought it would fit to the bands stance on sexual politics, which early Nomenanso focused on. So the band's name was found.
John was also playing in another band called "The infamous scientists" founded in 1979. The final line-up consisted of John on drums, Kevin Lee on bass and Andy Kerr on guitar who would later remains to be an important role in Nomeansno's biography.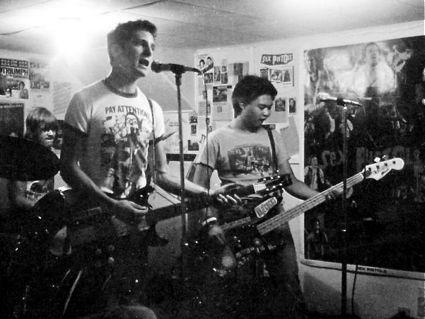 The first Infamous Scientists release, a single called "Noise 'n' Rhythm" (1981) was engineered and produced by Rob Wright. He also produced their second and last release, the 12" EP "Trouble" from 1982, with John Wirght now playing the drums. The band soon broke-up, but there was a reunion gig on Sept 25th 1985 which you can also download here.
After these episode John completely focused on the project with his older brother. Nomeansno first ever self produced 4-track release was a 7" called "Look, here come the wormies". There were only 500 made. The single was recorded at Subterranean Studios in march 1980. The single features Nomeansno's sort of a strange little new-wave song "Look, here come the wormies" on one side of the 7" with Rob Wright (bass, vocals, guitar) and John Wright (drums, keyboards and vocals). The other side features

Mass Apeal with "Social services" with Rob Wright (guitar, tape hiss), sleepy John Wright (drums) and Ray Carter (bass, vocals, door).
Exactly one year later, in march 1981, another EP was released called "Betrayal, fear, anger and hatred" with 4 songs featuring the both brothers. Originally there were 300 made but the EP was later re-released. These two first releases had a new wave, warped-pop sound, different from subsequent recordings.
John and Rob continued to play as a duo and after two EPs Nomeansno released their first full length album called "Mama" in 1982.
But the band realised that it doesn't work to play standard rock or three-chord punk rock without a guitar. So, when the Infamous Scientists broke up, it took Rob and John six months to convince Andy Kerr to join them. The chemistry worked perfectly. The first album which featured Andy on guitar, was released in 1985 and was called "You kill me". He preferred to be anonymous and used such pseudonyms as "Buttercup" or "None-Of-Your-Fucking-Business". His way of playing the guitar brought a distinct hardcore punk edge to the group. BTW, Rick Arboit, who did sound on NMN's first tour of Canada in 1985 is now part of Avril Lavigne's management team.
In the next years, two albums were released. "Sex Mad" in 1986 and "The Day Everything Became Isolated and Destroyed" in 1988. On the later album the drum part has been done by the D.O.A. drummer due to a severe kindey disease. John only did the perdussions. (You tube- Sex Mad (Live 1986))
At the time of Sex Mad, Nomeansno came for the first time to Europe for a tour. Actually the dutch government payed for their tickets, because they were invited to a foreign artist festival. They did the rest of this tour on top of that. "Dad" from Sex Mad album has acually been a minor college radio hit.
Then in the later during most of the later 1980s Rob Wright, suffered from nodules on his vocal cords, leaving Andy Kerr temporarily responsible for the most of the vocals. That is why he sings a lot of the songs "Small Parts Isolated and Destroyed" record from 1988.
By the time of the Wrong album of 1989, Wright had undergone successful throat surgery and was ready to do the vocals. Wrong is considered to be the best album of Nomeansno by a lot of the fans. The album title was somewhat inspired by a Jerry Jeff Walker song called "Contrary To Ordinary". The next full length release was 0+2=1 in 1991.
Since Nomeansno have been always a extensive live band which meant a lot of touring, Andy Kerr got sick of all the touring after 8 years being in the band. At that time he was about 30, and decided he had to take a turn left and do something different. He developed a relationship with a women who had tour managed a couple of tours. He moved to Amsterdam and is still living there with wife and kid. He has released a solo CD and collaborated with Victoria musician formerly of Shovelhed, Scott Henderson in Hissanol. Kerr most recently has begun a duo called Two Pin Din in Holland.
Back as a two piece again, Rob and John had to do all of the instruments on their on he next release "Why Do They Call Me Mr. Happy?" from 1993.
About four songs were actually written as Mr. Wrong (Rob Wrights solo bass act) songs. Then some songs were leftovers from when Andy was in the band and that had already been written. A couple of brand new songs were written by John and Rob together.
With Tom Holliston joining the band in 1993, Nomeansno had found a new guitarist. The first time he played on stage with NMN was actually in April, 1992. They played a couple of songs at the Alternative Tentacles 100th release party at the Kennel club in San Francisco. The first shows he did with NMN were in late August of 1993. Tom had been writing little press things for the boys in about 1987. Andy and Tom were also roommates for awhile. Thus was born W.Buzz Ryan. And since he was also wearing glasses and came from Victoria, he was a perfect fit. Tom had his own band called "The Show business giants". The band has been putting stuff out since 1989 and included also Scott Henderson John Wright on drums and Ford Pier. Tom started out as a Beatles and Rolling Stones esteeming adolescent.
The songs of The Show business giants have a more pop-like character, which made it at first difficult for Tom to play the guitar the way it had to be played for Nomeansno songs. But he wanted to do it and he was of like mind of the Wright brothers. Today, classical music really turns his crank, especially central and Eastern European composers, including Shostakovich and Bartok. From that time they are touring with him ever since.
In 1994 Nomeansno were touring with a second drummer, Ken Kempster, which was musically great but legistically and financially a knightmare. Youtube: Victory (two drummers))
Rob Wright had also been performing live as Mr. Wrong, playing bass and singing on his own (MR. WRONG - Live in Winnipeg 1992). The compilation "One down and two to go" from 1994 features some of Mr. Wrongs songs, plus unreleased songs of Nomeansno and their second band project The Hanson brothers.
The following years Nomeansno were touring extensively in Europe and North America while releasing the albums "The Worldhood of the World (As Such)" in 1995 and "Dance of the Headless Bourgeoisie" in 1998. The later album was supposed to be released under the name "Life like", but unfortunately the name had been used by another band before. So they choose a title no other band would have been used before.
After releasing their album "One" in 2000, a 6 year long abstinence of Nomeansno recordings followed. Only the EP "generic shame" was released in 2001. The name was revealed to come from three leftover songs from the "One" album.
In 2004 a retrospective compilation called "The People's Choice" was released. This album features a list of their best songs, selected from fans on an e-mail message list.
Then in 2006 a new full length album was released. It was called "All Roads Lead to Ausfahrt". The title is a homage the german fans, because germany had always been the country where Nomeansno had the biggest audience and success. The name came from joke which came up on their first european tour where they reading all the signs "Ausfahrt" [engl. Exit] on the german autobahn and where thinking that all roads must lead to a town called "Ausfahrt". The album was Nomeansno's conscious effort towards in-your-face, short punk rock songs.
After more than 175 live shows in 2007, Nomeansno spent 2008 taking a much-needed break. John spend this break basically with just being a dad to my two kids at home," He didn't play the drums for a whole year. He thought he would be rusty, but it was as though he hadn't stopped playing and felt re-energized to get right back at her.
Besides the band John enjoys being dad, Rob is playing golf and working once a week as a volunteer in a soup kitchen and Tom is working with Laurie Mercier at coolforever.com an LP and CD mailorder.
Influences:
Tom Holliston - Richard Thompson who is his favorite guitar player. Tom Verlaine from Television when he was a kid. John has also been influenced by the band Gang of four.
Side projects:
NoMeansNo's alter ego is The Hanson Brothers. This quartet consists of John singing, Rob playing bass and (currently) Mike Branum from The Freak Accident playing drums. Before Mike, Kenny Kempster has been on drums. The Hanson brothers are on one hand a Ramones tribute band, and on the other hand the band plays fun punk rock as a mock group of backward Canadian ice hockey fans. The lyrics centre on ice hockey, beer and girls. The name comes from characters in the 1977 George Roy Hill film Slap Shot, starring Paul Newman. One of the songs "A Night Without You" is the best songs Rob Wright has written as he says. As the Hanson Brothers they have released seven EPs and three studio albums and one live album. The album titles and cover refer to some of Ramones albums. For example "It's a living" refers to Ramones "It's alive". They have also been touring with the Hanson Brothers a lot.